ChoZen is an eco retreat sanctuary nestled deep in nature on the banks of the St. Sebastian River.
What is ChoZen?
ChoZen is a magical destination providing visitors an opportunity to disconnect from a world of distractions and reconnect to the natural environment, allowing space for inner peace and serenity.
the dome village
ChoZen offers custom designed and beautifully furnished geodesic glamping domes based on Buckminster Fuller's design principles and sacred geometry.
Connect with nature and the cosmos in these deluxe climatized accommodations.
There are four distinct Domes, each with its unique personality and sleeping configuration.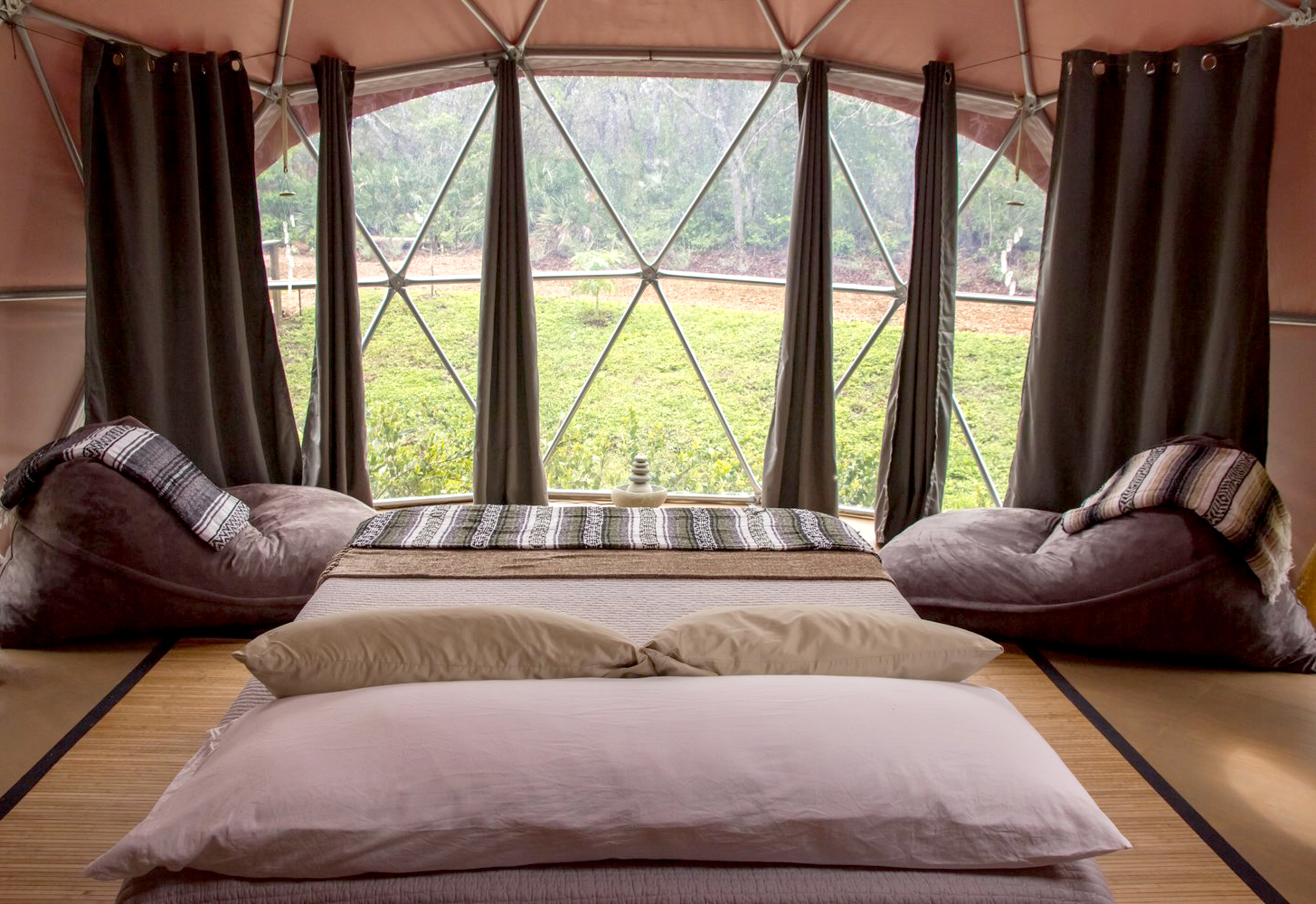 the florida villa
At the heart of ChoZen is a spacious 5 bedroom Florida Villa with a saline mineral pool overlooking the St. Sebastian River, abutting the 22,000 acre St. Sebastian State preserve.
The Villa is equipped with a full kitchen, spacious common areas & treatment rooms for massage, healing arts, workshops, meditation, yoga and wellness programs.
the ecology
ChoZen is situated on the banks of the St Sebastian River & Preserve, which is home to thousands of plant and animal species, including some 50 endangered species such as the Florida Panther.
Visitors can canoe, cayak, fish and trek through the trails at ChoZen and the preserve and encounter Florida's natural environment pristine and untouched. Enjoy fresh citrus & produce from ChoZen's fruit forest and permaculture gardens and surrounding local organic farms.
Safari Camp Bamboo Event Dome
our activities
ChoZen is an ideal property for many uses among them; corporate, health & wellness & yoga retreats, conferences, vacations, nature immersions, family reunions, weddings, production and special events.
Visitors can simply disconnect and relax in nature and do nothing or enjoy a whole host of fun and fulfilling activities such as:
Surfing

Skydiving

Nature Tours

Meditation

Yoga

Horseback Riding

Bird Watching
Fishing

Organic Farming

Healthy Cooking

Diving

Treasure Hunting

canoeing & kayaking

Food Foraging
our location
ChoZen is on Florida's east central coast 75 miles from Orlando International Airport, 90 miles from Palm Beach International and only 180 miles from Miami International Airport.
ChoZen is located in Indian River County on Florida's Treasure Coast, which boasts miles of pristine beaches, great surf and friendly southern hospitality. ChoZen is only 15 minutes from the Sebastian Inlet State Park and Mel Fisher's Treasure museum, where visitors can see treasure and artifacts recovered from Spanish Treasure ships, wrecked along the treasure coast.
A small municipal airport is located across the street and can accommodate small aircraft. A larger airport, which can accommodate private jets, is only 20 minutes away in beautiful Vero Beach.
Interested in up coming retreats and programming?